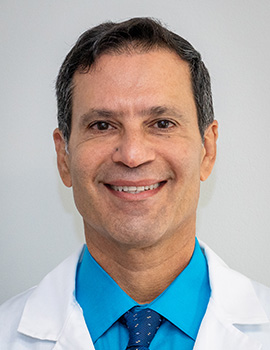 Dr. Leonardo Pena
DDS
Dr. Leonardo Pena earned his Doctorate in Dental Surgery in 1988 from the Havana College of Dentistry. In addition to his dental degree, Dr. Pena went on to obtain a degree as a Doctor in Normal and Pathological Physiology. He then taught Physiology at the College of Dentistry at the Universities of Camagüey and Las Tunas.
After emigrating to the United States in 1995, he received his Doctorate of Dental Surgery with honors from New York University College of Dentistry and an award from The American College of Prosthodontists for his outstanding undergraduate achievement. Dr. Pena is a member of the Omicron Kappa Upsilon Dental Honor Society.
Dr. Pena continues to study and master all current developments in dentistry. He has completed hundreds of hours of continuing education in all fields of dentistry, including Implants, Cosmetic Dentistry and Orthodontia.
He supports the Hands of Compassion Foundation, donating materials and dental equipment to render free dental treatment to underprivileged and underserved children in Honduras. The charities Dr. Pena supports include The Orange Volunteer Fire Association, The Orange Police Union, The Stratford Police Union, The American Cancer Society, St. Jude's Children's Research Hospital, and the Griffin Hospital Development Fund, among many others.
Dr. Pena is a true example of an immigrant living the "American Dream" earned through hard work and sacrifice. He is dedicated to his family and enjoys sharing quality time with his wife and son. Together they enjoy traveling, gardening, and spending time with friends.